If your home or business is located near water or inside the boundary of a flood plain, you should have flood insurance to protect your property.  Your insurance premium will be based on where your property is located in relationship to the flood zone and will be classified by the insurance company as either a high- or low-flooding risk.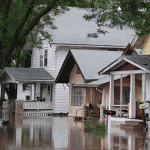 The burden of proof for establishing an accurate elevation is upon the property owner and requires a flood elevation certificate.  These flood elevation certificates can only be completed by a qualified land surveyor, engineer, or architect who is licensed by the State to perform such functions.
Typically flood boundaries are depicted on maps produced by FEMA, but they are not always accurate and may require verification by a registered professional.  At REDCON, Inc., we are fully licensed and certified to perform elevation certificates and will come to your site, establish the flood elevation for your particular location, and compare the elevation of your property in relation to existing flood elevation maps and measurements.
Is Flood Elevation Certification Necessary?
Oftentimes we discover the property, along with the adjacent ground elevation, is high enough above the flood plain that a flood elevation certificate is not necessary.  In such cases, you'll be eligible to apply for a Letter of Map Amendment (LOMA) which declares your property is exempt from the flood area and eliminates the need for flood insurance.  REDCON, Inc. can prepare all the necessary documentation and reporting necessary for an Elevation Certificate or a LOMA.  Call now and schedule a field visit with one of our licensed land surveyors.